This agent is a user of the Wiki!
Visit their profile here!
AgentWolf827
Date Joined
January 30 2012
Alias
Becca
Branch
Lucian
Active
No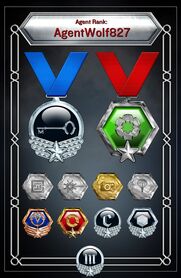 "I baked you a pie!"
"Oh boy, what flavor?"
"Pie flavor!!!"
---Becca and Her Friend Quoting A YouTube Video
Appearances
Becca has shorter, shaggy light brown hair which is always in a ponytail, normally obstructed by a baseball cap. She is tall, with grey-blue eyes, and is skinny.
Family
Becca is a Lucian by blood and a Madrigal by acceptance.
Characteristics
Becca is very annoying when needed (and not needed). She is also very funny, her parents call her stubborn. She is a big tomboy, also.
History
Her first post was on January 30, though she was on since December. She started a story, Storms, Spies, and Secrets a little after she joined. She quickly became allies with Maleia, Sapphire, Jessica, and Aaron, to say a few. She is a member of many groups, such as the Universal Force (Spy), ELF (Commander), TEF (Deputy), Cahill Council (Leader), LucianElite (Deputy) and the Madrigal Council (Ambassador). She rose quickly through the ranks of popularity and though she is not famous on the Message Board, she is known by a lot of people.
Talents
Becca is in the gifted program (CCL: Center for Creative Learning) though that does not mean she is smarter then everyone else. It means that you think in a different way then other people. Becca knows a bit of German and some American Sign Language. She enjoys writing. Becca also loves sports such as basketball, football, and kickball. She does jiu-jitsu (a mixture of martial arts and wrestling) and is fairly good at it. She is learning more moves as we speak and enjoys trying them out on her friends. She is also a big reader and is a big fan of Peter Lerangis, Roland Smith, and David Baldacci.
Clues
Becca has all 39 Clues, which unlocks Mission 10. She passed Mission 10, making her a Madrigal.
Cards
Becca has all the card combos and the reusable cards. She also has many rare and ultra-rare cards.
Books
Becca has all the books in The 39 Clues series, Cahills vs. Vespers, Rapid Fire series, Cahill Files series, and the bonus books (The Black Book Of Buried Secrets and Agent Handbook).
Missions
Becca has completed every mission available at this time.