This agent is a user of the Wiki!
Visit their profile here
​
AuthorDragon9
Date Joined
August 25 2011
First Post
This is a test so no cheating
Alias
BandArt9
Branch
Vesper
Active
No
Greetings to the home of V, Previously known as Ellie Vesper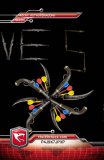 Who is V?
They are a 21 transmasc nonbinary from America who posted on the MB for the first time on August 25, 2011. Ever sense they were in several RP's, posted a few stories (which have died) and been part of the Vesper council. They are the host of a multiplicity system caused by Dissociative Identity Disorder, which is a trauma based disorder in which alters are formed to hide away from traumatic events. Their main protector, Talia, used to post here and on the MB as an "alter ego" before he was aware of the Disorder
Political status's
V came to be Vice Vesper 8 in 2014 and ran for Vesper 6 in 2015 but the elections died off as more people left the MB. 
V's Edits
EDIT: 11/13/16
Greetings, This is Vincent Darklight, The new incantation of Ellie Vesper. This name will be the one primarly used on the MB under the screenname shown. Due to my coming out as trans on January, I have taken this name as a safe haven for me. Please use He/him/his pronouns and do not be afraid. Thank you. 
EDIT: 4/14/19
Edited Name, Age, gender, Pronouns (went from he/him to they/them), and wording of the article. (From first to second POV). [Note to future self] - Deleted MB links because the MB closed about half a month ago.
Community content is available under
CC-BY-SA
unless otherwise noted.