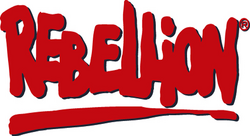 There have been several branch rebellions during the past few years on the Message Board.
Tomas
The Tomas Rebellion was pretty serious until Moderator Jen B put a stop to it. It was started by Nessa and Frankie, two Tomas agents on the Tomas council.
Lucian
The Lucian Rebellion that followed was a pathetic attempt to spur things up. It failed and Pedro, the person that started it, stopped when he realized no one agreed with him.
Joe also started a huge rebellion resulting in a stepping down of Red during which Gabby had to step in and take over.As soon as Red stepped down, the Elections started and Joe won, causing an uproar in the MB's Lucian government.
The Lucians first rebellion was under WolfKnife10. The second Lucian rebellion was under RaspberryAgent1, and the third was lead by Pedro (Again).
There was also a rebellion started by Tony (BearBlack94) against Joe being leader and went on for a while until Tony changed his mind and started rebelling against Montego (for unknown reasons) and in the end Tony stopped his rebellion and said it was just for fun. There was also a rebellion started by Kazey against 1D.
Janus
The Janus Rebellion is in fact a rebellion against Justin Bieber, which, not surprisingly, a lot of people joined in and became JB rebels. This caused no disruption in the branch.
There was a second Janus rebellion against peanut butter.
Ekat
The Ekats have never had a rebellion.