His Posts
|
Red
|
Red's Yacht

Card
|
Wiki
Pride of Place II
(commonly known as just '
Pride of Place'
or '
Pride'
) is Red's yacht in the Egypt RP and all surrounding media.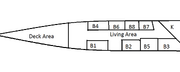 The
Pride
plays an important role in the Egypt RP, where all current characters are on board.
Original Layout
Originally, the layout was quite simple, with 8 bedrooms, a living area, a kitchen and a deck area about sea level, and lower down, there were 3 holding cells, an interrogation room, a food store, a large office and an engine room.
New Layout
The new layout added a lot more deck area at the back, including a swimming pool. It also included a games room below deck, with a library and reading room alongside it. Red is still to work out how to keep the books on the shelves in rough seas.